Dear Two Harbors Senior Families,
It is "Senior Order Week" at Two Harbors High School!
Today we met with the senior class to discuss all things graduation. Now is the time to place your order for your cap and gown along with everything you and your family will need and want throughout the year! Order NOW for the best deals and prices of the year!
CAP & GOWN ORDER DEADLINE: Wednesday, September 14
Please click the image below to access a short video with helpful information.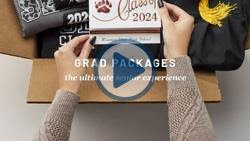 CLICK HERE to check out the Class of 2024 digital catalog!

The following promotions are ONLY AVAILABLE DURING SENIOR ORDER WEEK and will expire on the order deadline above. The details for how to redeem each promotion are noted on the postcard given to your senior during the class meeting (extras in the HS office).
FREE SHIPPING is available on our 3 most popular packages (MASCOT, PLATINUM, & GRADitude) – NOT AVAILABLE ONLINE!
Save an ADDITIONAL $25+ with the purchase of the AGATES Package. This package contains all the essentials such as your OFFICIAL graduation announcements, custom stationery and thank you notes, and your cap and gown, plus a few student favorites too!
FREE CAP & GOWN with your Class Jewelry Purchase (excludes the Basic Collection). CLICK HERE to design yours now. The offer does not include the stole (if applicable). Extra ring sizers are available in the HS Office.
Still need your LETTER JACKET? order HERE
To access our full product line, including discounted graduation packages, CLICK HERE
To access our a la carte section to order your items individually, CLICK HERE
If you have any questions or need help placing your order, please email us at pickle.office@jostens.com or give us a call at 218-656-7523.
We look forward to helping you celebrate YOUR year!
Your Northern MN Team,
Lucas & Kayla Pickle and Jackie DeVriendt
Jostens & Neff Representative
P.O. Box 1081 | Brainerd, MN 56401
218-656-7523
CELEBRATING
MOMENTS THAT MATTER